The mission of the Marine Division is to provide a safe and enjoyable boating environment on the waterways of Bonner County. This is accomplished through a balanced approach of law enforcement and boater safety education.
The Bonner County Sheriff's Office Marine Division consists of a lieutenant, two sergeants, and 14 seasonal deputies. As law enforcement officers, marine deputies respond to and investigate boating-related accidents and enforce state and local laws on Bonner County waterways. Deputies respond to water related calls for service, boating accidents, water rescues, and search and recovery operations.
The Bonner County Sheriff's Marine Division is responsible for patrolling approximately 120,000 acres of waterway, which is nearly triple that of any other county in Idaho. The Marine oversees 43 miles of Lake Pend O'reille, 19 miles of Priest Lake, 28 miles of the Pend O'reille River and eight miles of the Clark Fork River. The Division also has responsibility for numerous lowland lakes scattered throughout the county.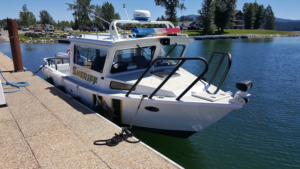 In 2014, over 12,000 registered boats listed Bonner County as their primary or secondary destinations. Local waterways also host a huge influx of summertime visitors from surrounding states and Canada.
The Marine Division uses specially-equipped law enforcement vessels to complete their unique mission. These vessels include six aluminum hull patrol boats ranging in size from 24' to 30'. The marine division fleet also includes a rescue dive boat and two high-performance personal watercraft.
Regular patrols are in effect for the general boating season beginning on Memorial Day weekend through Labor Day.
Listing of Invasive Species retailers in Bonner County
Eurasion Milfoil is an increasing problem in the waterways of Bonner County, please inspect your vessel & trailer and remove any weeds during launching and recovery.
A list of approved invasive species retailers in Bonner County can be found at:
Bonner County Invasive Species Vendors 2015
A complete listing of Bonner county waterways ordinances can be found at:
http://www.sterlingcodifiers.com/codebook/index.php?book_id=827
Bonner County Sheriff's Office is applying for a Waterway Improvement Grant with Idaho Department of Parks and Recreation for a two-sided extension to the existing marine shop.  The enclosed area will be used to house the sheriff's office dive team rescue vessel as well as other marine equipment.  Comments can be sent to ed.jochum@bonnercountyid.gov prior to January 15, 2019.
All sailboats and motorboats must be numbered and registered. Learn how to register your boat as well as the legal responsibilities of all watercraft operators. 
All boaters, regardless of experience, are encouraged to take a boating safety class to learn about Idaho boating laws and pick up some boating safety tips. Many families take the course together so both adults and children can safely operate their boat.