Community Meetings
Sheriff Daryl Wheeler's schedule is increasingly filling with community meetings.  Since taking office in 2009 the Sheriff's invitation to join the Community Force has encouraged citizens to provide practical tips to reduce crime in Bonner County.  Sheriff Wheeler and his deputies receive input from citizens daily as they travel throughout Bonner County, and Sheriff Wheeler has an open-door policy for his employees as well.  Sheriff Wheeler has found that Bonner County residents value community meetings. Their welcomed input provides a sense of ownership.  In addition, Sheriff Wheeler says that "These Community Force meetings provide us with invaluable input and directly influence our policies and procedures at the Sheriff's Office."
To schedule the Sheriff or a deputy to speak to a group or to assist in emergency and safety planning, call (208) 263-8417, Extension 3049.
Emergency and Safety Planning Offered
The Bonner County Sheriff's Office is available to all schools, county facilities, and other critical
infrastructure within Bonner County to assist with emergency planning, safety and security
assessment, staff training, and review of protocols used for emergency incidents.  We also offer
the same assistance to employers, civic groups, places of worship, or any other group that
might request such assistance.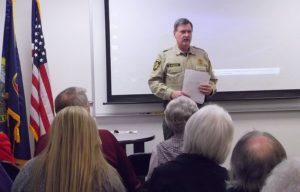 Volunteers Improve Our Community
Our volunteers make a difference! Our trained and dedicated volunteers support the Sheriff's Office's Sworn Deputies and Professional Staff in a variety of positions.
Our volunteer candidates must meet the following minimum requirements:
At least 18 years of age
No felony convictions
No misdemeanor convictions within the past 12 months
Successful completion of an interview and background investigation
Completion of orientation and training
If you would like to be considered, please contact Sheryl Kins at (208) 263-8417, Extension 3049